When To Selfie Stick (And Not)?
Question 1/5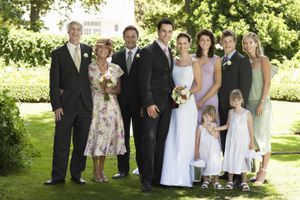 You're in the bridal party; is that a good time to selfie stick candid shots behind the scenes?
As long as everyone is cool with it

Absolutely; how fun would that be?

Yep, and then put them all over Facebook

No way, that's the professional photographer's job
Question 2/5
Is it okay to selfie stick pix of your own bottom to show your friends how you look in those jeans?
No way I'm that narcissistic

Sure, I've got it, I'll flaunt it

Only to get their candid feedback

It's tackarama, but I'd probably do it anyway
Question 3/5
You're on the parade route of the Queen's Diamond Jubilee; do you push to the front to take a selfie with Her Highness?
Absolutely; I wouldn't miss a pic of that

Only if the crowd wouldn't mob me

No, that would be over the top

I'd get there early to make sure I got the shot
Question 4/5
You'd take a picture of yourself out ahead of the horns during the Running of the Bulls in Pamplona, Spain...
Heck, yeah, I only live once

Not if my life depended on it

Maybe if I had a good lead

Only on a dare
Question 5/5
Party night on the town and too much to drink... selfie stick or no?
Yeah, I could blackmail my friends

No one will ever catch me doing that

I'd probably regret it, but sure

I do like to record candid moments
Get new quizzes every day. Like us on Facebook!