Can You Identify These Celebrity Tattoos?
step

step

step

step

step

step

step

step
Question 1/8
Call it narcissistic, but what does R&B songstress Mary J. Blige have tattooed on her arm?
Her face

We're #1

Her name

A Grammy
Question 2/8
Do you know this good girl gone bad who sports a tat of the Egyptian goddess Isis on her chest?
Beyonce

Ciara

Rihanna

Estelle
Question 3/8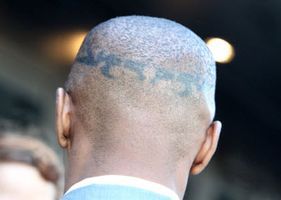 He may be an Oscar-winning actor, but that didn't stop him from getting a tribal tattoo on the back of his head!
Denzel Washington

Adrien Brody

Jamie Foxx

Ben Affleck
Question 4/8
Which tattoo did Angelina Jolie get on her lower back to celebrate her Cambodian citizenship?
A dragon

A tiger

A unicorn

A lion
Question 5/8
Whose traditional Samoan tattoo took 60 hours to ink and speaks to the importance of family?
Arnold Schwarzenegger

Sylvester Stallone
Dwayne Johnson

Vin Diesel
Question 6/8
She showed off a tattoo of a sad kitty on her inner lower lip, but it turned out to be a temporary inking!
Miley Cyrus

Taylor Swift
Vanessa Hudgens

Selena Gomez
Question 7/8
If you're a fan, then you'll know that her Little Monsters tattoo symbolizes her love for you!
Lady Gaga

Paris Hilton

Nicole Richie

Madonna
Question 8/8
Hello! She inked the word "paradise" on her hand because it's how she feels about her son.
Christina Aguilera

Gwen Stefani
Adele

Sia
Get new quizzes every day. Like us on Facebook!